I'm Getting Divorced and at Risk of Debt, what can I do?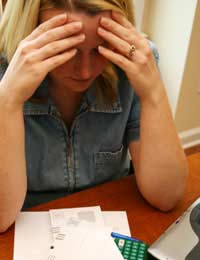 Getting divorced can be hard for anyone. Even if the divorce isn't bitter it can be upsetting – saying goodbye to the past, giving up on a marriage, it is never easy. The last thing you need then is to find yourself in debt. Unfortunately, though, it is very easy for this to happen. Legal costs can mount up leaving you having to pay out an awful lot. On top of this, once the divorce is over you may be left with a lot less than you have before. You could lose your house to your partner and may have to adapt to a completely different lifestyle. So what can you do?
Speak to the CAB
Firstly contact your local Citizens Advice Bureau. The CAB offers free advice on what you can do to prevent getting in to debt as well as help for getting out of it if you are already in trouble. They can also advise you on how to pay for your legal costs.
Talk to your Partner
It can be difficult to remain on speaking terms with your ex-partner when you are going through a divorce but if you can keep things amicable then you are much more likely to get things sorted quickly and easily. If you have joint debts then it is both of your responsibility to pay them. If you are on speaking terms you can sit down and work out how to pay back your debts together.
Sort out your Joint Accounts
If you have a joint account with your ex-partner you should inform your bank manager of your situation. He will be able to either freeze your account or make it necessary for both parties to sign for any withdrawals.
Paying Off your Mortgage Alone
If you keep the house and you have been used to paying the mortgage jointly you may find it difficult to pay it on your own. If this is the case the first thing to do is contact your mortgage lender and inform them of your problem. The lender may be able to arrange a payment holiday until you get yourself sorted. Alternatively it may be necessary to downsize. It may be that by selling your property and buying a smaller home you can save a lot of money and make your monthly payments easier to manage.
Don't Rush into Debt Solutions
You may be tempted to take up the offer of one of the many companies advertising debt consolidation or IVAs on the television. But this may not be the right option for you. Speak to a debt counsellor and explore all the options available to you to find the correct route to take.
Getting divorced is never a pleasant experience. You will have more than enough emotional problems to deal with without having to face financial worries as well. Try to keep a level head, don't panic and take advantage of all the help on offer to you. And remember, you're not alone, there are people out there willing to help.
You might also like...