How to Avoid County Court Judgements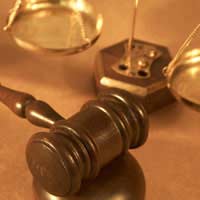 County Court Judgements (CCJ) are a common method used by creditors to recover money they are owed by debtors. This form of debt recovery can leave a black mark on a person's credit reference file but there are ways to avoid a CCJ.
The County Court Judgement Process
The basic process of a County Court Judgement for the debtor will begin with receiving a letter stating that the creditor intends to use court action. By this stage the debtor will usually have failed to make payments to a creditor or failed to maintain new credit repayment arrangements. A County Court Judgement is basically a decision made by the country court on whether the debt must be repaid. The court will also assess the debtor's finances and decide how much should be repaid to the creditor. The decision made by the court should be a fair one for both debtor and creditor.
Unnecessary Worry Caused by County Court Judgements
A County Court Judgement does sound serious but this is not a matter where a judge finds someone guilty or innocent. There are many people who cannot afford to pay their debts and this is a common process used by creditors. The major disadvantage with a County Court Judgement is that it can seriously damage a credit rating. The CCJ can stay on a debtor's credit file for six years. This can have a serious impact when trying to borrow in the future. Debtors who have poor credit references will find it difficult to obtain credit with good interest rates.
Avoiding a County Court Judgement
Avoiding a CCJ will mean repaying the creditor before the matter is passed to the courts. This means repaying the creditor in full or coming to an arrangement to repay the owed amount in instalments. These options are also available when completing a claim form that will be sent to the debtor from the courts. The debtor should be aware that if a CCJ is applied to a person they can repay the debt within one month and avoid having the six years bad credit reference. If the debtor does repay the debt within six years a 'satisfied' note can be placed on their credit file.
Paying a Debt before a County Court Judgement
Stopping the County Court Judgement altogether will mean restarting contact with a creditor. Many people who cannot pay their credit debts will simply avoid all contact with their creditors. This will not make creditors disappear and will simply escalate the situation. Creditors will have no alternative but to seek other ways to recover debts including County Court Judgements and debt collectors. Creditors should be open to negotiating new repayment plans in order to avoid using last resort debt recovery methods.
Coming to an Arrangement with a Creditor
It will be in the best interests of the debtor to make a new repayment arrangement with a creditor. This can be undertaken in writing or by telephone. Points to include when proposing a new credit repayment plan:
Set out exactly the monthly household income and expenditure
Assess how much can be repaid to the creditor
Set a realistic new repayment figure; setting an unrealistic figure will simply make the debt harder to repay
Explain to the creditor why there are difficulties in maintaining repayment amounts
Propose a repayment amount for a set amount of time until the financial difficulties are resolved
Do not give in to pressure from creditors if they propose an unaffordable amount
Always contact creditors as early as possible and do not allow the situation to escalate to the debt collectors
Creditors would rather implement new repayment schedules rather than sell debts to debt collection agencies
There can be serious consequences for debtors who make arrangements to repay debts using a CCJ and then fail to meet the repayments. A County Court Judgement can be stopped simply by contacting a creditor and making a new repayment arrangement. Avoiding a CCJ completely may stop bad credit references being applied to a credit file. This is a situation that can be resolved without the need for court involvement. If courts are involved they will usually apply a realistic repayment amount that is affordable to the debtor.
You might also like...