How to Avoid Getting Into Debt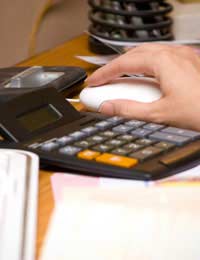 Getting in to debt is easier than it seems. You may think you're careful with your money because you don't splash out on fancy cars or luxury holidays. But very quickly things can spiral out of control. The essential tool you need in order to stay out of debt and in the black is a carefully worked out budget.
Budgets are never fun. Nobody wants to be told they can't have the nice things in life and often the things you do need seem just plain boring. However it is good money sense to budget and in actual fact by budgeting you'll often find you have more money to spend on the nice things in life.
How do I Budget?
In order to budget you need to work out exactly what you spend each month. Get a pen and paper and write down all of your outgoings, starting with the necessary ones for example your mortgage payments, utility bills etc. Don't forget to consider the payments you make perhaps every other month or every quarter i.e. your telephone bill.
Once you have noted all the necessary outgoings continue with your list adding on any other expenditure. How much do you spend on socialising? How much do you spend on clothes and make-up? How much do you spend on food? Remember to include things like coffee/lunches at work as well as what you spend on groceries.
Once you have done this, make a list of all your incomings, your wages and any other money you receive each month. Now subtract the outgoings from the incomings. If you are left with a decent amount of money you're doing fine as you are. If you're incomings just cover your outgoings you're doing ok but perhaps it'd be an idea to cut back on your spending a little. If, however, subtracting your outgoings from your incomings leaves you in minus figures then you really need to work on your budget.
Go back to your outgoings list and look at the unnecessary outgoings. Can you cut back on what you spend on socialising? Can you put a limit on what you spend on clothes? How about you bring a flask of coffee to work with you instead of spending money on a latte each morning? Cut back on all your unnecessary outgoings until you are back in positive figures.
Be Prepared for the Unexpected
One common mistake people make when budgeting is they forget that life is full of surprises. If you fine tune your budget so you are spending exactly what you are earning you could be setting yourself up for a fall. Of course you could get by quite nicely as long as nothing changes and nothing unexpected happens, but how likely is that? Remember things can pop up that you didn't even consider and you may not have the money to cover them. Anything from a bill from the dentist for some emergency work or having to buy a new laptop after your old decides it's had enough can leave you in a fix. Always have some money worked into your budget for unexpected events. Then if nothing happens you can save it each month and have quite a healthy nest egg at the end of the year.
The biggest cause of debt is ignorance. You cannot close your eyes and ignore what is happening in your bank account. Always be aware of what you're spending and if you go a bit too far cut back for a while. As long as you know exactly what is going where and when then there's no reason for you to find yourself in the red.
You might also like...