I've Lost my Job what can I do?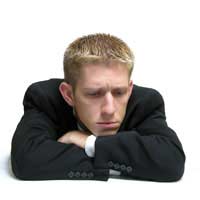 When you lose your job, a thousand things can start running through your mind. What next? How do I explain to my friends and family? What did I do wrong? Why did it have to happen to me? What you may not be thinking though is "how do I pay my bills?" and "how do I pay my mortgage?" The irony is though this is the thing that will cause you most problems. If you cannot pay your mortgage you are at risk of repossession. If you are not meeting your repayments then your creditors – the people you owe money too – may take your house.
If you cannot pay your bills you may find yourself with a County Court judgement. This could mean being taken to court by your creditors and resulting in a stain on your credit profile. This may affect your chances of getting credit in the future.
Should you find yourself in serious debt after losing your job you may have to enter into an Individual Voluntary Arrangement or declaring yourself bankrupt. If either of these are entered into then you may struggle to obtain credit in the future. And if you declare yourself bankrupt then your situation must be made public to everyone and your family, friends and neighbours must be made aware of your financial situation.
But there are ways to avoid this. If you are prepared for every eventuality then you may avoid the drastic consequences that follow losing your job.
Accident, Sickness and Unemployment insurance
Just as you would take out insurance to protect your house from a burglary or to protect your family after you're gone, you can take out Accident, Sickness and Unemployment insurance to protect yourself should you suffer an accident that prevents you from working, suffer an illness that prevents you from working or find yourself unemployed.
ASU Insurance will cover you in any of these eventualities and therefore should you find yourself unable to work you will be covered. This means if you are made unemployed through redundancy or other circumstances you are able to continue paying your mortgage and your bills and therefore keep your home.
ASU is vital. Nobody knows if or when they are going to be able to work. If you are committed to monthly payments your creditors will expect you to honour these commitments. If you do not do this then you will be at risk of CCJs, repossession, IVAs or bankruptcy. If you want to be prepared for anything that could happen then research the market work out what is the best deal for you. Be sure to find out what cover each policy offers. You do not want to find yourself taking out a policy that does not cover you in the eventualities you expect.
Life throws unexpected situations at you and if you would rather be ready to face them than have to deal with them as they come, as well as you can, then consider Accident, Sickness and Unemployment insurance.
THE IVA IS FOR SALE.
This website is for sale [more info].
You might also like...