I'm a Pensioner and am Falling into Debt, what can I do?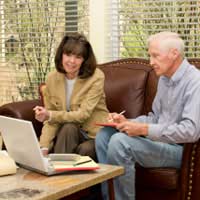 Several recent studies have shown that a worrying number of pensioners are finding themselves in debt. With the cost of living rising pensions are not always adequate. Many people over 60 are struggling to pay bills and can end up in financial difficulty. But are pensioners suffering unnecessarily? Many own their own homes and by unlocking the equity in them they could find the solution to their money troubles and live a happy, worry-free life.
What is Equity Release?
Equity release is a means by which you can get back some of the money you paid for your property. If your property is £100,000 you may release a percentage, if not all of the equity and use it for other purposes. You are still able to live in your property but when it is sold you will only receive the equity you have not taken out. The rest belongs to the equity release provider.
Why is Equity Release Becoming More Popular?
Nowadays people are living longer than ever before. Since the age of retirement has not changed people are looking for ways of funding their living costs and equity release is proving a popular option. The idea behind equity release is 'why should pensioners suffer financially when they have a lot of money tied up in their property?'
What is Equity Release Used For?
Aside from funding the cost of living many people use equity release for other purposes. As house prices rise and getting on the property ladder becomes more and more difficult many people are unlocking the equity in their homes to help their children buy their first home. Others use equity release to fund home improvements, healthcare or holidays.
What are the Pitfalls?
Equity release does have its pitfalls though. One of the main disadvantages is that by unlocking the equity in your house you are thereby cutting the amount of inheritance for your children. For this reason many of the equity release providers advise talking your decision through with your family before entering into any equity release plan. Negative equity can also be a problem. If you take out the sum of your property through equity release and houses prices fall when you sell it you may not have the full amount to pay back what is owed to the provider. However, most providers now offer protection against this.
If you are considering equity release make sure you shop around to find the best provider and the best plan for you. Talk through your intentions with your family and tell the provider any concerns that you may have.
If you do not own your own home and are finding it difficult to maintain your financial commitments you should contact the Citizens Advice Bureau. The CAB can help you budget appropriately and also inform you of any benefits or one-off payments you are entitled to but are not receiving. Yearly payments such as the fuel payments offered by the government can go some way to easy your financial burdens.
You might also like...