Government Policy: Is Bankruptcy Easier Than an IVA?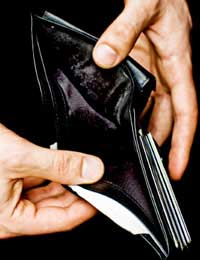 For years now declaring yourself bankrupt has been looked upon with shame. Having all your friends and family know your personal financial situation, along with members of the public, can be thoroughly embarrassing and has long acted as a deterrent.
Experts have said this shame is necessary as it prevents people from being irresponsible with money. They claim with bankruptcy having so many drastic consequences people are encouraged to be more careful with their spending.
However that could all be about to change as the Government has announced plans to make bankruptcy less stigmatised and therefore make it less of a bad thing for people to enter into it. This means people who may have done anything possible to avoid becoming bankrupt, including entering into individual voluntary arrangements. With the stigma removed from bankruptcy it could be that people in debt look towards that rather than IVAs or even adequate debt management.
What Will the Government Do?
The Government has decided that people who are declared bankrupt should not have to have their names published in the local newspaper, as has always been the case. Under the new regulations the person's name will only go in the local paper if it is thought to be necessary. This could save anyone entering into bankruptcy from feeling ashamed and embarrassed.
Unsurprisingly the thought of having your whole neighbourhood learn off your financial problems is extremely distressing. The Government hopes this new development will mean those in serious debt are saved from having to suffer this humiliation.
However experts have criticised the move. Many industry experts say by removing the stigma the Government is making entering into bankruptcy an "easy option". This could mean people are much more careless when it comes to their lifestyle and spending.
Should Consumers Opt for Bankruptcy Now?
Despite the efforts of the government to remove the stigma of declaring yourself bankrupt the consequences remain largely the same. The effects on your future finance are no different. If you declare yourself bankrupt you are unable to apply for any credit and effectively lose control of your finances. Even once you are no longer in the period of bankruptcy you ill struggle to get credit which means mortgages, loans, credit cards etc are not possible. This could seriously disrupt your life.
Both bankruptcy and Individual Voluntary Arrangements are extremely serious and while they are beneficial to people with extreme debt problems they should never be entered into lightly. If you are struggling with debt then you should contact a debt counsellor or speak to your mortgage lender or broker to find out what alternatives are out there. Often payment holidays can be arranged or a new deal can be found which you may find easier to adhere to. IVAs and bankruptcy can have catastrophic effects and should only ever be used as a last resort. While the stigma of bankruptcy may have been taken away the lasting effects on your finances and indeed your life remain as they always were.
You might also like...